Question of the day:  Cabinets: Painting vs. Refacing.
Before deciding whether to refinish or reface your kitchen or bathroom cabinets, there are a few important questions to consider:
 Are the existing cabinets in good condition?

 What materials were used in the original cabinets?

Is the cabinet style right for the current design of the kitchen?

How much money is available to cover remodeling costs?

Is time a factor?
If the existing cabinets are in good condition and the style works with the space, PAINTING is your best (and more economical) choice.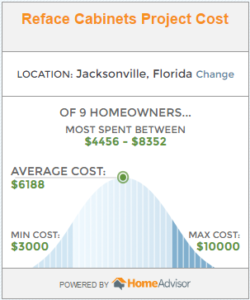 However, if the cabinet doors are falling apart and beyond repair (Example: laminate is peeling or doors are warped) REFACING would be the better option.
**Professionally painted cabinets are about 1/3 the cost of having them replaced.
"The average national cost to reface cabinets is $6,649, with most homeowners spending between $4,278 and $9,021. This data is based on actual project costs as reported by HomeAdvisor members."
Thinking of selling?
Ask any real estate expert what the No. 1 upgrade with the greatest return is, and the answer will be the kitchen. Putting money into those dark, dated cabinets will give any kitchen the WOW factor.  
"Many buyers want an open, light and airy space. A kitchen that is white makes the space feel bigger. White is also a universally appealing color and leaves a blank slate so buyers can reenvision the space."
-Nadia Hursky, Blue Tea Design
http://www.houzz.com/ideabooks/3632738/list/the-4-things-home-buyers-really-want-in-kitchen-cabinetry
"Most people consider the kitchen to be the heart of the home, and because of this, updates in this room pay off. According to HGTV, you can expect to recoup 60%-120% of your investment on a kitchen remodel, as long as you don't go overboard."  -Heather Levin
http://www.moneycrashers.com/7-home-improvements-to-increase-its-value/
"Real estate agents and remodelers say updated kitchens and baths still bring a significant payoff, especially at resale time. The report found that kitchen projects yielded a higher return than bath projects, with a minor kitchen remodel adding 82.7 percent of the project's cost back to the home's value. Kitchens are important, Aaron says, because would-be buyers often overestimate how much they would cost to update."  –Teresa Mears
http://money.usnews.com/money/personal-finance/articles/2014/03/06/which-home-remodeling-projects-are-worth-your-money